Why buy a .online domain name?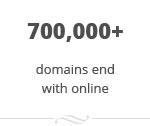 Having just an internet presence is not enough. Web addresses can now be an integral part of a brands online engagement, bringing new life to their Website.
Understood across the world, .online stands for 'being connected on the internet'. There are more than 700,000 domain names that end with the string 'online' making the case tha
t customers love the string 'online' already!